Motorbike Fork as a sample use case for AMable
This use case of K-Tech, GRM and the MTC shows how AMable services can support all stakeholders in the uptake of additive manufacturing (AM). Parts that enhance performance in the use of the final product can profit from AM based manufacturing. See inside and learn how to approach the solution!
Optimised Motorbike Fork End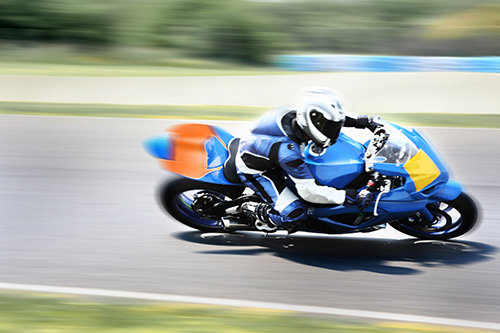 Motorbikes challenge technology with drivers that strive for an agile and controllable performance on steering and handling - especially on the race track. One core component is the fork end which holds the front wheel and influences the suspension dynamics. The goal is to provide a part with high stiffness at low weight - a driver for additive with some challenges.
This is the project CASiM which has been performed by the MTC, GRM and K-Tech before AMable started. At that time, they defined the following challenges:
Design SMEs GRM and K-Tech were keen to further investigate the capability of Additive Manufacturing (AM)
In order to fully utilise the benefits of AM for product improvement, GRM and K-Tech were looking to develop knowledge and expertise in considerations for Design for AM
K-Tech had previously designed and manufactured a motorbike fork end, and were looking to improve this product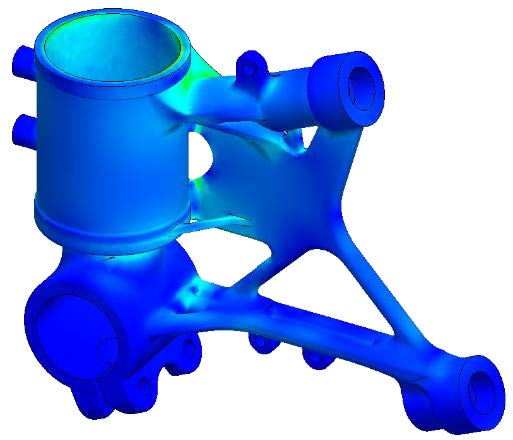 The team took on the challenge to create a new part with integrated functionality and reduced weight. To ensure that the design would withstand the mechanical loads, mechanical analyses were performed on the optimised part. In a repetitive manner, the design was optimised and simulated towards its robustness with the manufacturing process in mind. These simulations enabled the team to come up with a design that was additive manufacturing aware and objectives driven.
At that time, the partners reported:
Working with GRM using TruFormtopology optimisation, the MTC facilitated fast iteration of designs to optimise the motorbike fork
Two motorbike forks were manufactured in Ti6Al4V using Electron Beam Melting (EBM)
The MTC performed geometric evaluation via structured light scanning using GOM for shape conformance testing, and non-destructive x-ray computed tomography for defect detection
Clearly, the driver of the motorbike was delighted by the performance of the new fork end. The main benefit however was twofold:
a part that increased the sales value of the motorbike
a technology demonstration that initiated new ideas where AM could benefit.
The part was 50g lighter at increased fracture thoughness with full quality assurance of the part's integrity. The process of developing a part that was ready for deployment entailed three main benefits for the customer
Fast iteration and design change implementation throughout project
Product and process knowledge captured for use in future GRM and K-Tech programmes
Transferable capability and knowledge obtained as a result
Overall, the benefit of running through design, optimsation, print and post-process relied on services like topology optimisation, simulation, print and finish - services that AMable will offer to companies that have similar innovative ideas.