Safety Test And Industrialization Requirements For Personalized Sport Helmets
STIRPSH strives to realise the manufacturing of personalised helmets with individual shape and protection at market prices and to standards. The challenge is to design and test a sport helmet produced in AM that performs equal or better than the current solution. On this journey, certification to safety and quality standards is an underlying requirement.
The aim of the experiment is to
certify AM produce sport helmets
personalize sport helmets using AM
identify industrial manufacturing equipment
The people from the STIRPSH experiment have now started to derive a software package that enables the creation of structures in 3D. A key feature of this software package is the design to function feature. Based on such feature definitions, the software will accept loads and suggest structures accordingly.
Features that can be addressed:
mechanical static loads
dynamic forces on the part
deformation limits
material
printing process
An easy workflow allows desginers to create light and robust products with this software product.
Come back to see when the first release is available. You can also sign up for our newsletter to get the information right into your mailbox.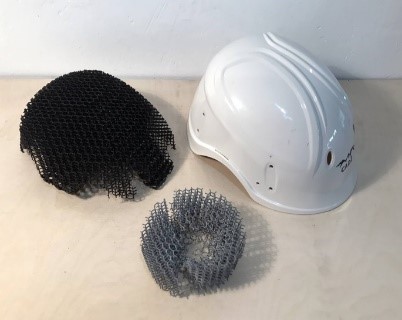 Topofab is a SME company from Spain that aims to provide construction that is functional and additive manufacturing ready. The actual target is certified protective head devices for outdoor applications.
Productos Climax is a SME from Llobregat (ES) that produces and sells sportswear and protective equipment. Additive manufacturing might open new market segments through individualised products.