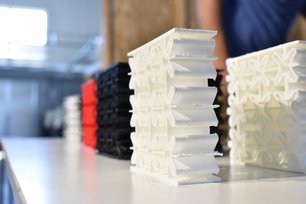 AUXPRINT
Develop and optimize additively manufactured auxetic cores to replace convectional honeycombs in sandwich structures for impact absorbing devices.
Context:
The design and manufacturing of lightweight composite structures for protective purposes has been a main interest for both defence and civilian applications (including aircraft, sports, automotive and consumer goods). Additive manufacturing enables easy and precise control of both geometry and material composition of complex shapes, providing an opportunity to explore different geometric aspects.
The challenge:
Numerical studies (FEA) to optimize the auxeticity effect of polymeric cores in sandwich structures.
AM technologies (FDM and SLA) to fabricate the optimized auxetic geometries with high degree of freedom in manufacturing complexity.
Mechanical testing campaign of the AM fabricated auxetic cores in order to evaluate their mechanical strength in terms of compression and impact tests, as well as the developed FE models.
Supplier: